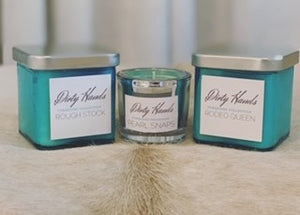 Dirty Hands Candle Company
Turquoise Candle Collection
Regular price
$8.00
$0.00
Turquoise: An intoxicating blend of spicy bergamot, sultry amberwood, bright citrus, and more than enough sea salt to keep this spicy senorita salty and sassy.
Cactus Blossom: White flowers, clean crisp florals, with a hint of Granny Smith.
Southern Belle: Floral and spicy with a touch of chocolate and cedar. Sexy and classy.
Rodeo Queen: Floral, spice, and leather. The wild side of feminine fragrance. 

Mexican Sugar: Leather, vanilla bean, and Mexican vanilla extract. Rich and exotic.

Butt Nekked: If tropical fruit bubblicious had a boat drink on a beach, nekked, it would smell like this. 

Pearl Snaps: Clean and masculine, this scent smells like a cowboy on a Saturday night dressed up to find his honky tonk angel. Citrus, Bergamot, Amberwood and Leather.
Rough Stock: Patchouli, citrus, cedar, and sage. Wild. Western. And badass.


9oz Strait Shooter (best seller)
Double wick/ silver lid
48ish hours burn time

3oz round Whiskey Shot glass (super thick heavy glass)
Single wick/ no lid
24ish hours burn time
Best candles out there!
The scents are amazing, the owners are even better! These guys have been nothing but amazing to work with! I'm a forever customer!!!
---
More from this collection